Anja Mamero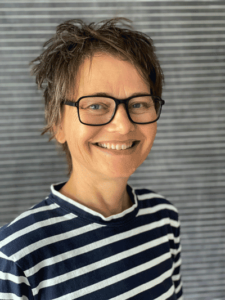 Anja Mamero lives and works in Kiel.
*1963 in Hamburg
The language of line in Anja Mamero's work has an ambivalent character. It tells of the interdependence of Mamero's needs, which move between the poles of order, dynamism and outburst. The straightness of a line is emblematic of order and expresses Mamero's strong desire to give space to the chaos in her being, to her hurts and thoughts.
The lines, drawn in a rhythmic regularity, like a meditation, provoke this thought. By penetrating the paint, Mamero questions the line in terms of its unpredictable material and formal constitution. The background is also determined by the moment of unpredictability, recalling the feeling of breaking free. In the confrontation of the lines with the autonomy of the background, the ambivalence of Mamero's work is reflected.
The numerous layers of colour create a physicality as they point the way into the depths. At times, the line exposes deep layers of paint by being scratched into the paint with a knife. Some lines are crossed or dip into the background. In contrast, other lines are overlapping and present themselves confidently in contrast to the background. Foreground and background are thus mutually dependent.
Although the line varies greatly in its constitution, it always remains autonomous in its character and finds its way. As a central element, it determines the process and is the carrier for the movements, which on the one hand give new space to order and security and on the other hand to outbreak and injury. This dynamising moment of confrontation forces Mamero to oppose the large format with all her physicality and freedom. Mamero thus not only poses the question of the constitution of the line, but also questions the space in between the line, the layer of paint, the image carrier and the individual.
[Paula Oltmann]
Exhibitions
2022                           Experimente/ Experimenter, Denmark Kolding
2022                           LINE UP, [Der Lokschuppen], Rendsburg
2022                           AS A MATTER OF FORM, Fabrikstraße 12, Kiel
2022                           Experimente/ Experimenter, Denmark Augustenbourg
2021                           Weekend of the Museums, Kesselhaus Anscharpark, 24106 Kiel,
2021                           Weekend of the Museums, artegrale, 24105 Kiel
2021                           FUTUR3 Festival Kiel
2021                           Kiel Studio Days 2021, Fabrikstraße 12, Kiel
2021                           Summer Studios in Schleswig-Holstein, Fabrikstraße 12, Kiel
2021                           1700 years of Jewish life in Germany, Brunswiker Pavillon, Kiel
2020                           MFA exhibition, Flämische Straße, Kiel
2019                           Solo exhibition lost & found, Kunstraum B, Kiel
2016                           Atelier Days Kiel 2016
2015                           Atelier Days Kiel 2015
2015                           Artist books at SAUTTER & LACKMAN, Hamburg
2014 /15                     61st Landesschau Schleswig-Holstein, Eutin Castle